Why We Are Proud To Be A` Coventry-Based Law Firm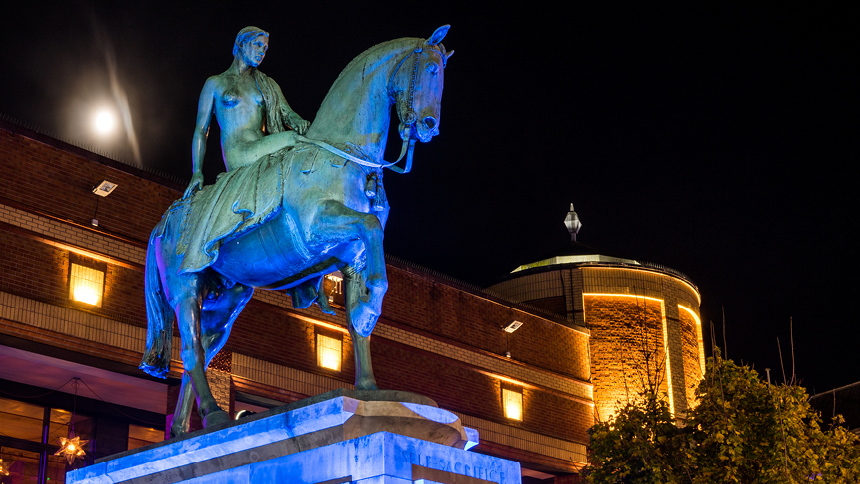 What is the first thing that pops into your head when you hear someone mention Coventry? Chances are it is the iconic cathedral, looming hauntingly in the city centre, a vivid reminder of the damage wrought by conflict. However, although the cathedral is an impressive sight, there is so much more to Coventry, which is why our team of solicitors and legal executives are proud to be based in this part of the country. Not only do we provide a full legal service to businesses, individuals, and families, wherever possible, we try and help local causes as well as more nationally recognised events, such as the Macmillan Coffee Morning cake sale and Children in Need. In addition, we are proud to support Coventry City Council in their campaign for Christmas presents for the Looked After Children of Coventry. We are also members and supporters of the Coventry Chamber of Commerce and have contributed several articles to their website.
But enough about us. Let us talk about the fascinating history of Coventry and some of the exciting projects which are happening now and in the future.
A quick trip into Coventry's past
Although there were pre-Roman settlements nearby, the Anglo-Saxons likely established the first presence in Coventry. Their settlements grew around a nunnery which had been founded c. AD 700 by St. Osburga. The nunnery was destroyed by King Canute's army as they laid waste to towns and villages in Warwickshire in their battle for control of England.
During the Middle Ages, Coventry was one of the wealthiest and most important towns in the country, thanks to profitable textile trades, especially in wool, as well as the abundant grazing land around the town.
One of the most famous Coventry legends is that of Lady Godiva (in Old English Godgifu) who was an 11th century Anglo-Saxon noblewoman married to Leofric, Earl of Mercia and Lord of Coventry. Although Godiva was a genuine historical figure, it is the myth of her naked horseback ride that has come down to us through the ages. The noblewoman was upset by the harsh taxes her husband had levied on the citizens of Coventry. Her lord stated that if she rode nude on horseback through the centre of town he would consent to her pleas to lower the taxes. Godiva complied and ordered the people of Coventry to remain inside their homes and not to look at her as she rode past. However, a man named Tom fancied a peek at this renowned beauty and was immediately struck blind. His lewd behaviour gave us the name 'Peeping Tom'.
During the Civil War, Coventry was a stronghold of Parliamentary forces. The phrase 'send to Coventry' which means to be ignored or treated coldly, may have stemmed from this time when captured Royalist troops were sent from Birmingham to the town and received an unfriendly welcome by residents. Another suspected origin of the saying comes from the fact that Coventry was used as a place to execute heretics in the 15th century.
Nowadays, being sent to Coventry will see you receive a warm welcome and the opportunity to visit a city that is jammed full of culture, development, and activities for the whole family.
Coventry UK City of Culture 2021
Askews Legal was delighted to be one of the sponsors of Coventry's year as the 2021 UK City of Culture. Details of how the status and events benefitted the city have recently been published and they show extremely positive results:
The programme saw 389,705 tickets issued for live events with a further estimated audience of 136,916 attending unticketed live events across the city. Around 516,000 viewed the events online.
The city secured more than £172m of direct investment to support the programme of events, the activities of the Coventry City Of Culture Trust, and the major upgrade programme of Coventry's public realm and cultural assets.
Professional artists and creatives performed/exhibited at over 709 events held in every city ward.
The creation of City Hosts saw 1,515 local people trained as volunteers to give the biggest Coventry welcome to visitors. Surveys show that the volunteers added to the positive experience delivered to tourists.
Building developments around the city
Increasing investment is being made into residential and commercial property developments in and around Coventry. Major projects currently underway include:
The green light has been given for the development of 223 new homes on the site of an old factory off Holbrook Lane. Twenty-five per cent of the site will consist of affordable housing available for local people.
Work on a vast retail, leisure, and residential project which will transform Coventry city centre is on track to begin in the summer of 2023. The developers told Coventry Live that "the development will include an extensive selection of retail, hospitality, leisure, and healthcare facilities". The project will be "designed to attract people back into the city to live, work and play, including graduate students from Coventry University and the University of Warwick."
The construction of a new HS2 station on the edge of Coventry will create 1,100 new jobs over the next four years.
Coventry Rugby
We are proud and committed sponsors of Coventry Rugby Club and everyone in our office enjoys celebrating our local team's success. In August, Coventry Wheelchair Rugby, Coventry Stampede finished third overall for the season. The team is also being headed by a new captain through the 2022/23 season. Jordon Poole was chosen to lead the team during much of the Championship Cup run in the absence of Ryan Burrows. This year's season is shaping up to be highly entertaining and successful and we look forward to cheering the team on.
Concluding comments
Coventry is a dynamic, positive city surrounded by beautiful countryside. It is also the model for the city in which Middlemarch, one of England's greatest novels, is based. Its author, George Elliot, lived and went to school in Coventry. That is not its only great literary connection – it is rumoured that William Shakespeare jilted a local lass on the eve of their wedding so he could marry Anne Hathaway. Coventry is full of surprises.
If you have any questions regarding anything covered in this article, please call us on 02476 231000 or email enquiries@askewslegal.co. Please note that this article is for information purposes only and does not constitute legal advice.