How Does The Court Calculate A Divorce Financial Settlement?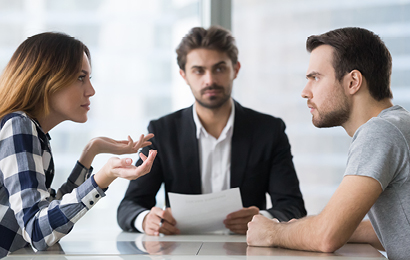 Getting divorced is often an extremely worrisome and emotional time, particularly in regards to how you and your spouse will divide your property and assets. Understanding the principles of the family law system when it comes to calculating a financial settlement will provide you with confidence as you go through the process.
Will I need to go to court for a divorce financial settlement?
The first thing to note is that the family law system in England and Wales is designed to support divorcing couples to work out matters regarding money and children between themselves rather than go to court. Once an agreement is reached, your solicitor can create a Consent Order which is approved by the court and becomes legally binding.
When advising you on your financial settlement, your solicitor will consider the principles set out under section 25 of the Matrimonial Causes Act 1973.
What are the Matrimonial Causes Act 1973 section 25 factors?
If a financial settlement case proceeds to court, the presiding judge must consider "all the circumstances of the case", as well as the factors set out under section 25 of the Matrimonial Causes Act 1973. These include the:
Resources available to both parties, both now and in the future.
Needs of both parties and, most importantly, of any children.
Length and duration of the marriage.
Standard of living enjoyed by the parties.
Contributions of each party (financial and non-financial).
Conduct of the parties.
Benefit lost by either party as a result of the divorce.
To ensure the Consent Order is approved by the court and the final settlement is fair and reasonable, your solicitor will always have regard to the section 25 principles when advising you and negotiating with your spouse's solicitor.
What happens if my spouse and I disagree over the details of the financial settlement?
Disputes over money and children are common in divorce matters. However, rather than go to court, you can try and reach a resolution through negotiation or mediation. Both these alternative dispute resolution methods are cheaper, faster, and less stressful than formal litigation. Of course, in some circumstances, for example where there is a history of domestic abuse or one spouse displays traits of narcissism, going to court is the best option. Your solicitor will always work to protect your best interests and will advise on the right dispute resolution process for your circumstances.
To discuss your matter in complete confidence with one of our specialist divorce and family law solicitors, please call us on 02476 231000 or email enquiries@askewslegal.coPlease note that this article is for information purposes only and does not constitute legal advice.