Personal Employment Law
Guiding you through your career
Our Employment Law Solicitors make up one of the most highly respected and knowledgeable teams in Coventry and Warwickshire.
The head of our Employment Law Department in Coventry, Lianne Payne has featured for several years in the Legal 500: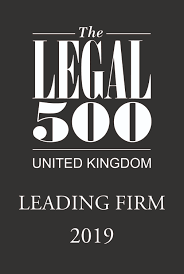 "Lianne Payne is frighteningly focussed on achieving her clients' outcome, whatever time of day help is required. She works widely in a range of employment sectors and disputes, which is of assistance to companies with a wide range of employment issues.
"Particularly impressive attention to detail especially in the early stages of a dispute. This ensures for clients that the right attacking (or defensive) strategy is adopted, such that all the later steps flow properly to the desired outcome".
An employment-related dispute is one of the most stressful life events a person can go through. By instructing one of our team of solicitors, you can be confident that you are receiving the best legal advice and representation. From our offices in Coventry we take complete care of the matter for you, ensuring you can get on with other areas of your life. Although we can never totally remove the stress you are under, by instructing us you can trust that you have a talented Employment Law Solicitor on your side and ready to answer all your questions.
We are a diverse, multi-lingual Coventry and Warwickshire based law firm employing solicitors that use best-in-class technology to provide clients with streamlined, modern, and highly effective employment law advice and representation. Our solicitors have years of experience in employment law meaning we have a robust reputation for excellence with the UK's best Barristers and King's Counsel, Independent Financial Advisers, and Counsellors who can bring additional support to our Employment Law Department if required. Our clients from Coventry, Kenilworth, Nuneaton, Rugby, Warwickshire, the Midlands and the UK., also benefit from our ability to instruct the country's most respected expert witnesses. Below are some of the most common questions we are asked about employment law.
What type of employment disputes do you advise and represent clients on?
From our offices in Coventry, our solicitors advise on almost every employment law matter, including:
Unfair Dismissal and Constructive Dismissal
Discrimination
Employment Contracts and Directors' Service Agreements
Settlement Agreements
TUPE
Disciplinary action
Redundancy
Whistleblowing
Do I have to have an employment contract?
Your employer must give you a Written Statement of Employment Particulars on your first day of work.
The document must set out:
Your name, job title or a description of work, and the start date.
How much and how often you will get paid.
Your hours and days of work and if and how they may vary.
Your holiday entitlement (and if that includes public holidays).
Where you will be working.
If you will be required to work in different locations and if so, where these will be.
How long a job is expected to last (and what the end date is if it's a fixed-term contract).
The length and conditions of any probation period.
Any other benefits (for example childcare vouchers or gym membership).
Any mandatory training that is required and whether your employer will pay for this.
Matters such as pension schemes and non-compulsory training are also normally covered in the Written Statement of Employment Particulars.
If you are unsure of any information included in the Statement of Employment Particulars or your Employment Contract, our Solicitors can advise you.
Our Solicitors and the Employment Law Tribunal often refer to the Advisory, Conciliation and Arbitration Service (Acas). Acas is an independent body funded by the Government that provides advice to employers, employees, and their representatives.
Acas provides several Codes of Practice relating to:
Disciplinary and grievance procedures.
Disclosure of information to trade unions for collective bargaining purposes.
Time off for trade union duties and activities.
Settlement Agreements.
Flexible working requests.
Why choose us?
Work encompasses a significant portion of all our lives. Employment law disputes or being discriminated against or bullied can have serious consequences for your physical and mental wellbeing. Our Solicitors will ensure you do not feel alone and will take care of the legal aspects of your problem for you. We will be on your side, always fighting for the protection of your best interests.
Our Employment Law Solicitors make up one of the most highly respected and knowledgeable teams covering Coventry, Kenilworth, Nuneaton, Rugby, Warwickshire and the Midlands.
To talk to one of our Employment Solicitors, please fill in our contact form.
Meet your
'Personal Employment Law'

specialists

Based in our city centre offices in Coventry, here's our team to guide you through your legal needs.
Fees
Depending upon the complexity we are able to offer fixed fees in some cases. In other cases our solicitors charge the following hourly rate:
Partner/Member Solicitor

Hourly rate of

£265 + VAT

Senior Solicitor or Head of Dept: (PQE 8yr+)

Hourly rate of

£240 + VAT

Assistant Solicitor/Fee Earner (PQE 3/7yr)

Hourly rate of

£215 + VAT

Newly Qualified Fee Earner (PQE 1/3yr)

Hourly rate of

£185 + VAT

Paralegals/Trainees

Hourly rate of

£135 + VAT

Support Paralegals

Hourly rate of

£115 + VAT